Texas and Oklahoma came to an agreement with the Big 12 and its television partners to depart for the Southeastern Conference a season early and join the conference in 2024. Their early move to the SEC brings up the conversation of who teams would play and what the format of conference games will be.
GET THE INSIDE SCOOP EVERY DAY WITH YOUR PREMIUM SUBSCRIPTION!
The two formats that were discussed most were the eight-game, 1-7 model and the nine-game, 3-6 model.
The 1-7 model would allow for one evergreen opponent and seven different conference opponents. This model would also allow a fourth non-conference opponent, but it would allow an even number of home and road games versus conference opponents.
The nine-game, 3-6 model would allow for three evergreen opponents and six different conference opponents. With this model, there would only be three non-conference games and there wouldn't be an even number of home and road games versus conference opponents each season.
Both models would also be divisionless and could lead to teams doing home and away series for two seasons before getting a fresh new seven teams to face for another two-year stretch. The SEC could also elect for a home and away series every other year (or however many years they'd like to put in between) and have the teams have a fresh seven opponents every year.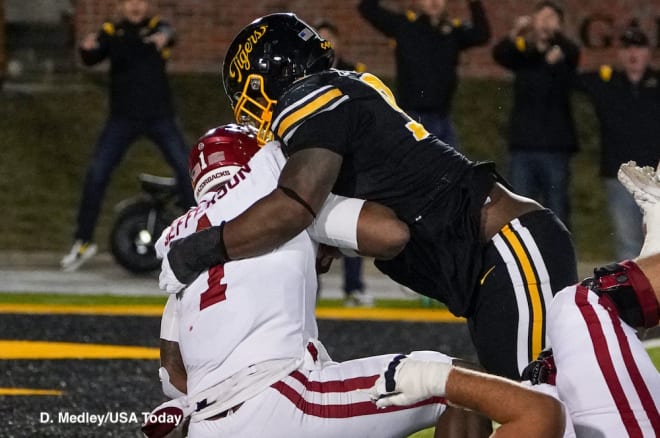 If the SEC decided to go the 1-7 model route then Missouri's likely evergreen opponent would be Arkansas to maintain The Battle Line Rivalry with the other seven opponents being any combination of teams.
If the league decided to go with the 3-6 model, Missouri has a number of historical rivalries that would make sense for its three evergreen opponents, but we believe that Arkansas, Oklahoma and South Carolina would get those spots with an alternative team being listed below.
Breaking down the rivalries
While Missouri's rivalry with Arkansas is manufactured by the league and is less than 10 years old, it makes sense to keep it. Obviously, with the teams bordering each other The Battle Line Rivalry makes sense from a geographical standpoint and fans of the respective schools have embraced the rivalry to this point. It doesn't hurt that Missouri has a 10-4 advantage all-time against Arkansas and would like to keep a rivalry that usually sees them on the winning side of things as it did in 2022.
Bringing back a rivalry that stretches back to the Big 8 days would be something huge for both the Oklahoma and Missouri fan bases. Not only does southwest Missouri border northeast Oklahoma, which again makes the rivalry relevant geographically, but historically it would mark Missouri's most-played conference opponent with the teams previously facing off 96 times. It would be Oklahoma's second-most-played conference opponent behind Texas. Although Oklahoma leads this series 67-24-5, a rekindling of this rivalry would be historical and fresh at the same time and see the return of the Tiger-Sooner Peace Pipe which goes to the winner of each game.
Although the Tigers' third rival could be a team like Kentucky, which Mizzou players in recent years have considered more of a rivalry than the one they have with Arkansas, it's not a guarantee that Kentucky would also choose Missouri as one of its rivals. Kentucky would probably want to keep its long-lasting rivalries with Mississippi State, Tennessee and Vanderbilt alive.
So, the next best SEC East matchup for the Tigers to keep would be with South Carolina in what's dubbed the Mayor's Cup rivalry due to both teams being in cities named Columbia. Missouri doesn't have many natural rivalries with SEC teams, but the same could be said for South Carolina, which has a rivalry with Georgia. The Gamecocks also had good matchups against Tennessee and Florida, but one of those teams could be swapped out for Missouri with the Tigers and Gamecocks seeming to be on similar levels when it comes to their place in the conference.
Vanderbilt could be an alternative andf maintaining the Mayor's Cup isn't high on the Tigers' bingo card. In theory, Vandy could be an alternative for Arkansas and Oklahoma as well, but it's hard to see The Battle Line Rivalry and an opportunity to rekindle a long-time rivalry with Oklahoma being put on hold for the Commodores.
Vanderbilt is less than 450 miles southeast, so it's another geographical rivalry involving a school in a bordering state and it's also another rivalry Mizzou is leading comfortably in the all-time series at 10-4-1.
This one isn't much of a historical rivalry filled with hatred, but this could be a matchup both schools want to preserve due to both schools likely seeing it as one of their best chances to get a conference win. In 2022, Mizzou's first conference win was a 17-14 win versus the Commodores, and prior to Vandy beating Kentucky and Florida at the end of the season last year its last conference win was against Missouri in 2019.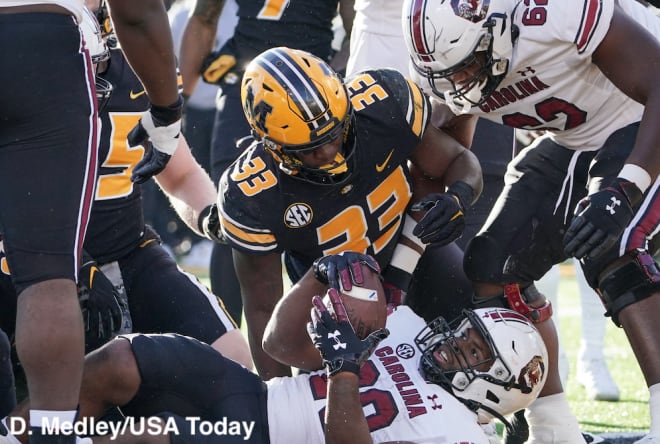 Example of the 2024 schedule with 3-6 model
Here is an example of the 2024 schedule with Arkansas, Oklahoma and South Carolina as the three rivals in the 3-6 model based on how the current 2024 schedule is set up. To avoid too much of a scheduling conflict, Missouri's conference schedule will still be made up of mostly SEC East opponents, although that could change.
Game 1: vs. non-conference opponent
Game 2: vs. non-conference opponent
Game 3: vs. non-conference opponent
*Game 4: at Florida (originally scheduled to be a non-conference opponent)
Game 5: vs. Vanderbilt
Game 6: vs. Kentucky
Game 7: at Oklahoma (rival)
Game 8: vs. Georgia
Game 9: at Tennessee
Game 10: at South Carolina (rival)
Game 11: at Ole Miss
Game 12: vs. Arkansas (rival)
In the example above, Mizzou gets seven home games but only four of those games are versus conference opponents with one of them being versus a rival.
If the SEC elects for teams to just do home and away series in consecutive years this is what the schedule could look like in 2025. in the example below.
Game 1: vs. non-conference opponent
Game 2: vs. non-conference opponent
Game 3: vs. non-conference opponent
Game 4: vs. Florida (originally scheduled to be a non-conference opponent)
Game 5: at Vanderbilt
Game 6: at Kentucky
Game 7: vs. Oklahoma (rival)
Game 8: at Georgia
Game 9: vs. Tennessee
Game 10: vs. South Carolina (rival)
Game 11: vs. Ole Miss
Game 12: at Arkansas (rival)
It's an interesting concept with a number of things changing. If the 3-6 model wins out teams could go a number of ways as far as who its three rivals they'll play every year.
Do you agree with the three teams we think Missouri would play? Who would you pick to be Mizzou's three evergreen teams?