#3 Purdue has lost 3 of 4 and Ohio State has lost 12 of 13 as both teams try to get back on track in West Lafayette on Sunday.
While #3 Purdue doesn't feel as good as they did about their season a week ago, they are still at the top of the Big Ten and likely a #1 seed in the NCAA Tournament.
There's no such optimism in Columbus, Ohio. Since Purdue came in Ohio State and won on a last second shot, the Buckeyes entire season has collapsed in on itself. The loss to Purdue was the first of five straight losses by Ohio State, including a home loss to Minnesota and a road loss at Nebraska.
It appeared their stumble might be short lived when they rocked Iowa, 93-77, on January 21st, but things have only gotten more bleak for Coach Chris Holtmann and his Buckeyes. Ohio State comes into West Lafayette on a seven game losing streak including three home losses to Wisconsin, Northwestern, and Michigan State.
Ohio State has lost their last two games by a combined 38 points.
Purdue is not overlooking Ohio State. It took everything they had to knock off Ohio State in Columbus on January 5th, but Purdue has a losing streak of its own to contend with. For the first time this season, Purdue has lost back to back games. Both of them came on the road, at Northwestern and then at Maryland.
The Maryland game was the first time this season Purdue didn't have the ball in the last minute of a game with a chance to win. Their other three losses were all highly contested where Purdue was either leading late or had a chance to take the lead or tie in a final possession.
For the first time this season, Purdue has had to look at themselves in the mirror and not like what it's seeing as a team. After a week of talking about officials, court storming, and hostile crowds, the Boilers appear to have looked inward to help prepare themselves for the final run in the Big Ten with their conference lead now down to just one game.
Fletcher Loyer Struggling
The true freshman guard has struggled over Purdue's last four games going 3 of 24 in his last four games. He was able to get inside and score from the mid-range against Indiana and Iowa, but Maryland and Northwestern bottled up the young guard to the tune of just 6 and 2 points.
It's been the toughest stretch of Loyer's very young career. But Ohio State should offer some inspiration for Loyer. In the first half against Ohio State, Purdue's offense struggled and Loyer was a part of that struggle. David Jenkins Jr. came off the bench and ignited Purdue with a couple three-pointers halfway through the first half. The veteran transfer played so well that he earned his first start in the second half.
That meant for the first and only time this season, Loyer wasn't out with the starting unit at the start of a half.
How did the freshman respond? His first possession on the court he hit a three-pointer, one of three he hit that game.
Oh, and one of those threes was the game winner to put Purdue up 71-69.
But that's a narrative for us. Much like he has been all season, outcomes and narratives don't move Loyer.
"I'd just say staying steady. You've gotta have confidence to go out there. You've gotta move on and what's happened in the past. Whether I had 20 points last game, whether I had 6, whether I had 10 , or whether I had – you have to go in like it's a brand new game," he said Saturday about his mindset and if seeing Ohio State gave him any extra confidence.
For Coach Painter, his message to his freshman is similar to the message to his team as a whole.
"He had a couple tough ones the other day [at Maryland] where he drew some fouls and didn't get called and I think that gets him frustrated. And that's what he's gotta learn to do. Gotta learn to fight through that. You see the guys that get frustrated are the highly competitive guys. He's a very competitive guy. So once again, I'd rather take that. I'd rather take the highly competitive guy like Fletcher Loyer and try to wind him down a little bit. And say hey man, you've gotta build up some good faith here. Even if you're getting some tough calls. Don't argue as much. Don't ref as much. Be competitive, channel that frustration into your play. I'm confident in him. He's a guy who can make plays, make shots. I just think we have a lot of makes coming our way."
Officials
It's always an unfortunate thing to have to talk about, but Painter talked about it during the week, and then on the court, Mason Gillis's technical foul reacting to a help call turned the game around for Maryland. It sparked what was the biggest run against Purdue all season. It was a momentary lapse in judgment from a player who was voted captain in part because of how much he cares on the court.
"Mason plays extremely hard and he competes out there. He can't let his emotions get the best of him. It was a tough whistle on that play. It wasn't a foul. I don't care if it's a foul or not, you can't react that way. He understands that. So it's a hard lesson to learn. It was a big momentum swing in the game but I'll take someone like Mason Gillis every day of the week. The way he competes . The way he plays hard," Matt Painter told me Saturday.
Painter will continue to fight for his players with calls on and off the court. He'll continue to review the tape and watch without his gold and black glasses on, he tells me. When he complains about calls, he's gonna be sure he's right about it. But those games happened, those calls, and not a single one of them cost his team a game. The focus is on Purdue and being better.
"The thing that I told our guys is if we play better, you would diminish some things that have happened. You can see where it's been really hard for us from an officials standpoint when you go back and watch the tape," he's telling me before getting to the crux of the matter. "Well, play better. Do our part. Coach better. do my part."
Zach Edey continues to be the toughest player in college basketball to officiate. But for Painter and his team, it's their job to take the game out of the officials' hands and they'll do that by playing through those issues, playing tougher, and being better.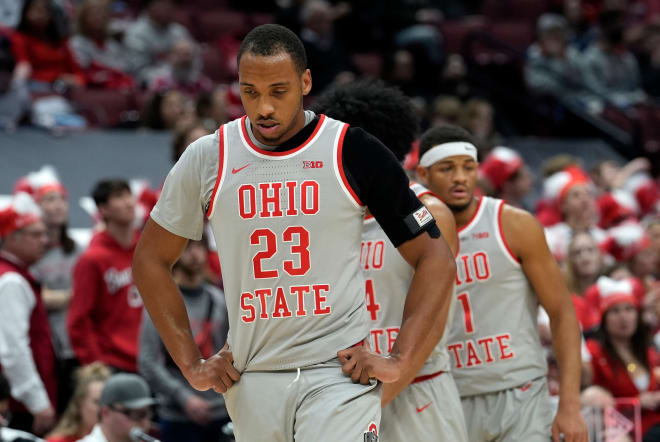 Ohio State Basketball
There's not a more curious change of course in college basketball. Ohio State looked like one of the best teams in the Big Ten in early January. Brice Sensabaugh was a sensation as a freshman. He is a sensation. Maybe.
Sensabaugh's numbers still look incredible, 16.3 points and 5 rebounds a game from a true freshman. He's 48% from the field and shooting 43% from three. But he's still playing just 23.6 minutes per game. Something isn't adding up and the pieces at Ohio State don't seem to be adding up to a cohesive team. Certainly not on the defensive end where they've now moved outside KenPom's top 100 defenses.
Their offense is still ranked in the top 30, but it has relied on isolation heavy scoring and players making their own shots. Ohio State has one of the lowest assists to field goals made rate in the country (354th!) and more than half of their buckets come without an assist. Their efficiency has struggled from inside the arc and outside as a result.
But most concerning is Ohio State is a low play making, high turnover team. There's only one player for Ohio State who has a higher assist rate than turnover rate on the season. Their best players have been their worst play makers.
Brice Sensabaugh has a 9.8% assist rate to a 16.3% turnover rate. Justice Sueing has an 11.8% assist rate to a 16.2% turnover rate. Zed Key's ratio is 6.3% to 14.5%.
Isaac Likekele is the only positive in this category, assisting on a team high 20.7% of his possessions compared to a 17.6% turnover rate. He plays about half of Ohio State's minutes.
It's a testament to individual talent that Ohio State's metrics haven't entirely tanked, but the results on the scoreboard are clear. Ohio State is not a good team right now. They don't appear to be enjoying playing with each other.
But it still took a last second shot for Purdue to beat them in the team's first matchup, and that was with Zed Key getting injured early in the game. Sensabaugh went off for 21 points and Sueing has always played well against Purdue, with 15.